We have all seen those online scams about making money fast, but most of the time, you are only going to waste your time. If you are looking for extra money to pay off unexpected bills, or student loans, or just looking for some pocket money, I am going to share 5 quick ways to make extra money.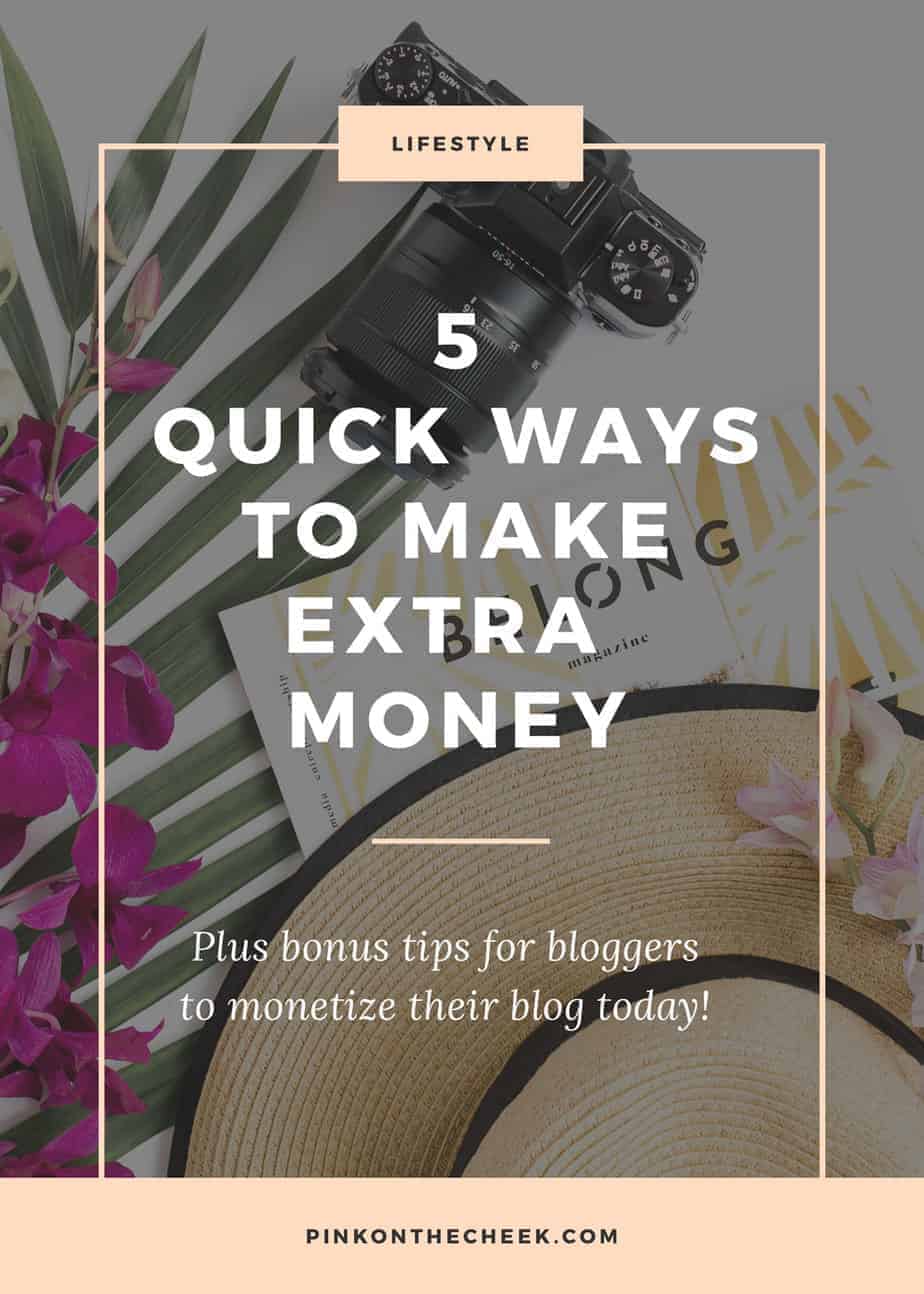 Delivery Courier
Last year when I was looking for a job, I needed to supplement my income with a part-job. Yes, I needed a job while I was looking for a job. But the hardest part was that I needed a flexible schedule that would allow me to work on my own time.
Enter, Uber Eats. 
I was pretty nervous about driving people in my car. Who knows what kind of situation I would get myself in? But, I did feel comfortable enough about delivering food to people in my city.
It was really easy to get signed up and register my car on the Uber website. I want to say it took me less than a day to get approved. 
Pro Tip: during the lunch rush, dinnertime, special events, and rain – Uber will increase their rate so you can earn about $30/hr!
Sell Your Clothes
We all have clothes that we no longer wear, so why not make a quick buck by selling those unused items? I have found that ThredUp is a great way to unload items with minimal effort. When you are ready to purge, head to their website and request a Clean Out Kit sent to your home. They will send everything you need and then deduct the cost of the kit from your earnings with them.
Get $10 off your first ThredUp order with this link here.
Flip Items on eBay or Craigslist
I had thought of this idea when I was in college and didn't realize how popular it actually was. When I was shopping at my local TJ Maxx, I noticed a lot of designer purses that were selling for really cheap. I thought that if I could purchase these purses and then flip them for a higher price on eBay, that would be a win!
This wasn't the easiest way to make money since it takes a lot of time to hunt for popular items, place them on eBay, then ship items, but it definitely helped.
Pro Tip: Head to Target on designer release days (Victoria Beckham, Lily Pulitzer, etc) and purchase items to resell on eBay.
Take Surveys
There are no scams here. Here are 32 legitimate ways to make money at home from Penny Hoarder.  Some ways are as simple as downloading an app so the Neilsen Panel can learn more about how you use your phone in daily life.
Instead of making money, save money
About two years ago, it was much harder to drop cable in lieu of streaming services. Now that Hulu and Netflix have gotten more popular, it's so simple to watch all of my favorite shows.
Looking back, it seems nuts that we were spending over $100 a month for cable and internet. Now we use Sling, Netflix, and Hulu for all our streaming services.
Pro Tip: Take a look at all your outgoing money and find ways like this to reduce your spending.
---
 Bonus Tips for Bloggers
If you already have started a blog, there are so many ways that you can monetize your site to your advantage!
If you are interested in selling your clothes, shoes, and accessories, you can advertise your closet on your blog or social media channels!
Sign up for Google AdSense. See how I made my first $100 with Google AdSense.
If you are thriving in the blogging community, set up a services page on your website.

Consultations
Coaching
eBooks
Webinars
eCourses
Online Community Membership
Photography Services

Sign up to work with advertisers and get paid for sponsored blog content
I hope that these tips have helped you in some way. If you have a tip on how to make extra money, share it with me below!