After looking at all of my makeup, I realized that I had quite a few bronzers in my collection. It's time for battle of the bronzers!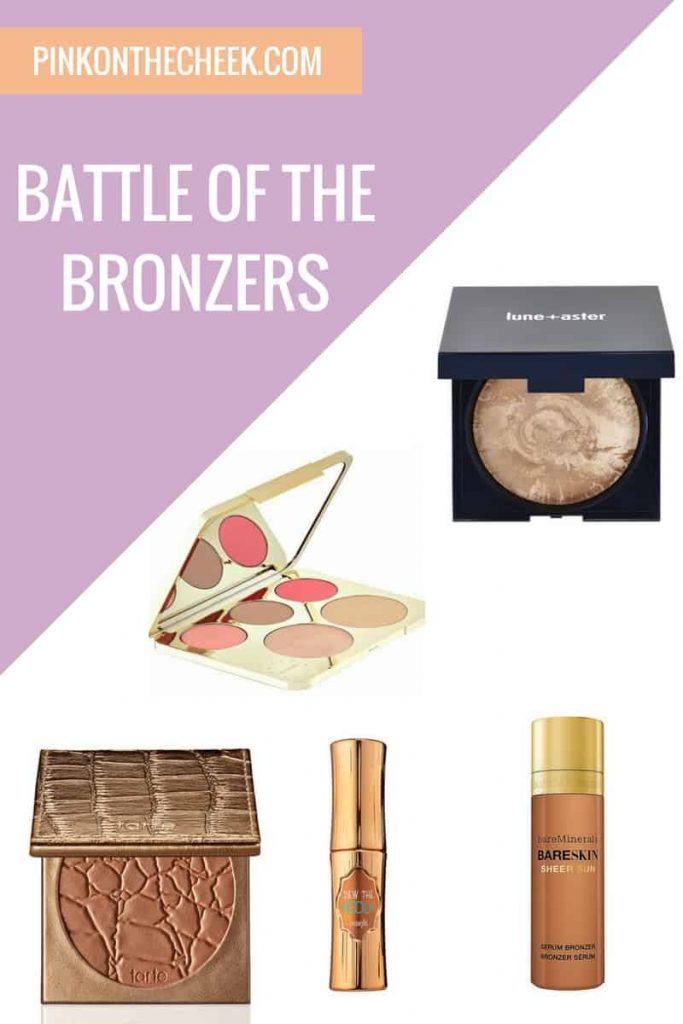 Lune + Aster Baked Bronzer Kona // Tarte Amazonian Clay Waterproof Bronzer // Dew the Hoola Liquid Bonzer by Benefit Cosmetics // bareSkin Sheer Sun Serum Bronzer // Jaclyn Hill x BECCA Cosmetics Face Palette (sold out)
With my fair skin, I am always looking to bring some warmth to my skin. After applying foundation, I feel like I have applied my base and now it's ready for added color.
With bronzers, blush, and highlighters, I do my best to look like my skin is dewy and glowing. I honestly have no idea what I am doing, but if my skin doesn't look like I applied mud to my face…I consider it a win.
One of my favorite face palettes was a limited edition collection from BECCA Cosmetics and Youtuber Jaclyn Hill. I am pretty excited that I jumped on this face palette while it was available at Sephora. I am OBSESSED with the added highlighters in the palette, but I actually started using one of the blushes (Amaretto) as a bronzer.
I am sure that's not what the blush was intended for, but the color worked on my light skin!
Last year in my POPSUGAR Must Have Box, I received the Tarte Amazonian Clay Bronzer. What I loved about this bronzer was that I couldn't over apply. It was easy to build up the color without messing up.
One of my blogging besties, Nancy of Spiffykerms, is a beauty blogger. So if you wanted to know more about makeup, from someone who knows what they are talking about, I would suggest following her!
Because Nancy gets a LOT of makeup, I happily get some of her left over PR samples. One of bronzers that Nancy sent my way was this Lune + Aster Baked Bronzer. With the gold flecks in this bronzer, it's almost like a bronzer and highlighter combination! But don't worry, this bronzer doesn't leave you glittery.
Now, here are some new-to-me bronzers. I was kind of worried about trying a liquid bronzer because I was afraid that I wouldn't have control over the application.
The first one I tried came in my Sephora Play box last the month. Dew the Hoola from Benefit Cosmetics is a liquid matte bronzer, inspired by their famous powder bronzer, Hoola.
At first I loved this liquid bronzer. I squirted a little on my Beauty Blender and was able to dap and build up up the color on my cheeks. But I felt like the color wasn't perfect on my light skin.
It wasn't until my friend Nancy gave me another goodie bag of makeup, and introduced me to the bareSkin Sheer Sun Bronzer. All of a sudden, I knew I found my holy grail bronzer.
First of all, this bronzer was not a winner for Nancy because she felt like the serum was a little greasy. But I found out that Nancy was not using the Perfecting Face Brush from bareMinerals. I received this brush with my bareSkin Pure Brightening Serum Foundation. Since this Sheer Sun serum applied like the foundation, I figured this brush would be the best application.
Here's how the bronzers looked against my skin tone.
Now that I looked at the bronzers on my skin, I realized that the Benefit Dew the Hoola was actually too dark for me. This was probably why I thought the color wasn't totally perfect.
Verdict
My overall favorite daily bronzer is the bareSkin Sheer Sun. I loved that it makes my skin glow. I always apply this bronzer on side of my cheeks, then I layer on Champagne Pop from the Jaclyn Hill face palette.
Boom, there you have it! If you have a favorite bronzer, I would love to hear your recommendations!
Leave a comment below ↓