The holidays are arriving a little bit early around here. But when it comes to holiday make gift sets, I don't mind! Here are my favorite picks for the holidays from bareMinerals and Buxom Cosmetics.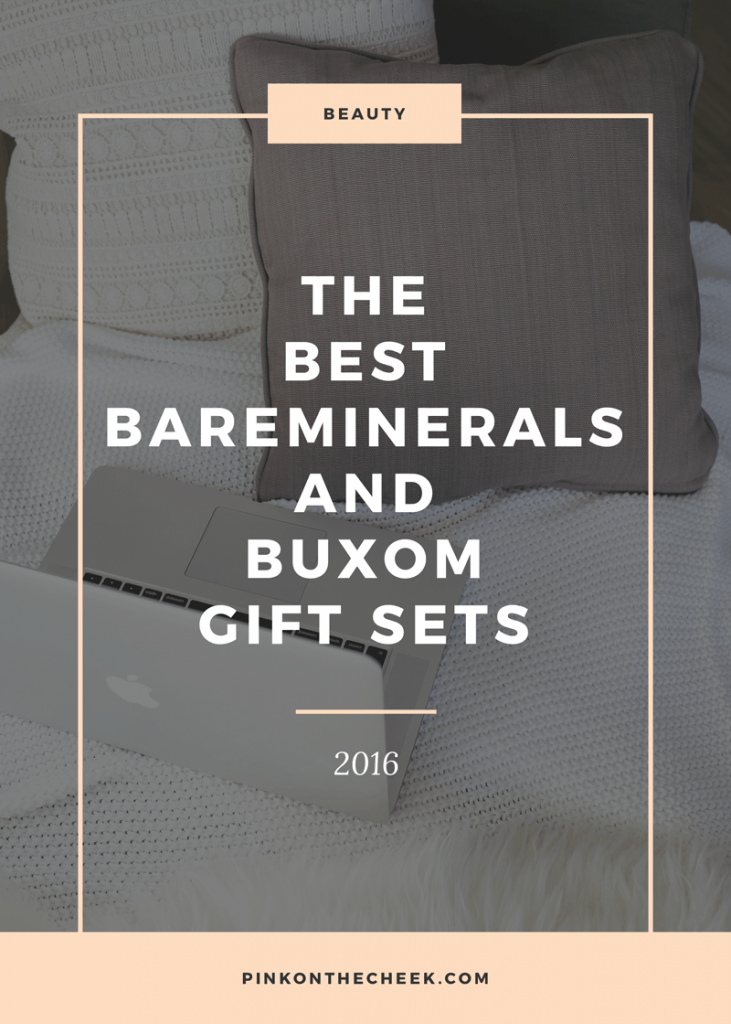 Even if you are not shopping for gifts for friends and family, these gift sets are perfect for stocking up. But let's be honest, your bestie would LOVE you if you gave her one of these sets.
The Buxom 6 Degrees Below Sexy comes with six of the best-selling sheer to nude shades. These sheer high-gloss polishes are perfect for carrying in your makeup bag. I just love their mini size!
Shades include: Dominique (glittering ice), Amy (golden nude), Celeste (prismatic soft peach), Clair (starry plum haze), Starr (brandy cordial), Jasmine (black cherry).
Buxom Stone Cold Babe would be a great accompaniment to the 6 Degrees Below Sexy set. These primer infused shadows will allow you to be holiday ready at a moments notice. The set comes with mirrored eyeshadow palette and mini version of the Buxom Lash Mascara.
Shades include: Diamond Darling (shimmering frost), Champagne Buzz (shimmering pearl), Trendsetter (matte putty), Sequin Sparkle (sparking pewter), Frosted Pewter (sparkling iron), LBD (matte black), Velvet Show (sparkling white), Mink Magnet (metallic bronze), Haute Couture (metallic java), Jetsetter (matte griege), Graphic Glam (sparkling charcoal), Black Tie (sparkling onyx). 
Ever since Apple came out with the gold iPad, I have been drawn to all things gold. These bareMinerals makeup brushes were no exception to my gold passion.
This makeup brush set, Give Me A Swirl, has three essential brushes to add to your collection. The collection includes a Supreme Finisher Brush, Blooming Blush Brush, Expert Shadow & Liner Brush, and a Travel Case.
To add to the glamour theme, finish off your gift set with the Wish List Eyeshadow Palette from bareMinerals. These sophisticated shades are so easy to apply and have lots of options for daytime looks.
Shades include 12 bareMinerals READY® Eyeshadow in Merry, Bubbles, Come True, Granted, Yes Please, Stiletto, Chance, Daydream, Bling, Gold Leaf, Good Spirits, and Boardroom.
Finally, finish off your holiday makeup gift set with the new barePRO Performance Wear Powder Foundation. This cake-free foundation provides full coverage for 12 hours!
In my makeup routine, I like to use the barePro foundation to set my liquid foundation. I go all over my face with a Kabuki Brush and my makeup stays fresh all day long. Even when I bring along my barePRo compact for touch-ups, I rarely feel the need to "fix" my makeup. I guess out of habit, I feel like my makeup is running!
The best part about using bareMinerals makeup is that it's fortified with 90% vitamins and minerals, so you can be sure that this makeup actually good for your skin!
With the holidays coming up, add these bareMinerals and Buxom Cosmetics to your shopping list. Also, my friend mentioned that one of these sets would be a great White Elephant or Secret Santa gift! 
Is anything from bareMinerals on your holiday shopping list? Let me know in the comments!