This post is sponsored by the makers of Hidden Valley® Ranch. All opinions are my own.
I absolutely love an easy appetizer that I can bring to a party. Especially one that tastes this good! Keep reading for the full recipe on how to make Cheddar Bacon Ranch Pinwheels.
This recipe is a cinch to pull together because the only cooking you would have to do is make bacon!
I am partial to baking bacon because there isn't any splatter. For this recipe, I cooked three strips of bacon at 375 degrees for 12 minutes.
After the bacon is cooled, you are ready to pull your recipe together.
For this recipe, I am using the Hidden Valley® the Original Ranch® Seasoning Shaker, which can be found on Amazon Prime Pantry! No need to take a trip to the grocery store! With this shaker, I can sprinkle ranch seasoning on anything that needs a zest of flavor. You can also shop other Hidden Valley® products here.
Use promo code 20HVRLAUREN to get 20% off one seasoning shaker product from Hidden Valley Ranch
As you can see in the recipe below. All the ingredients get mixed together, spread on a tortilla, then rolled up!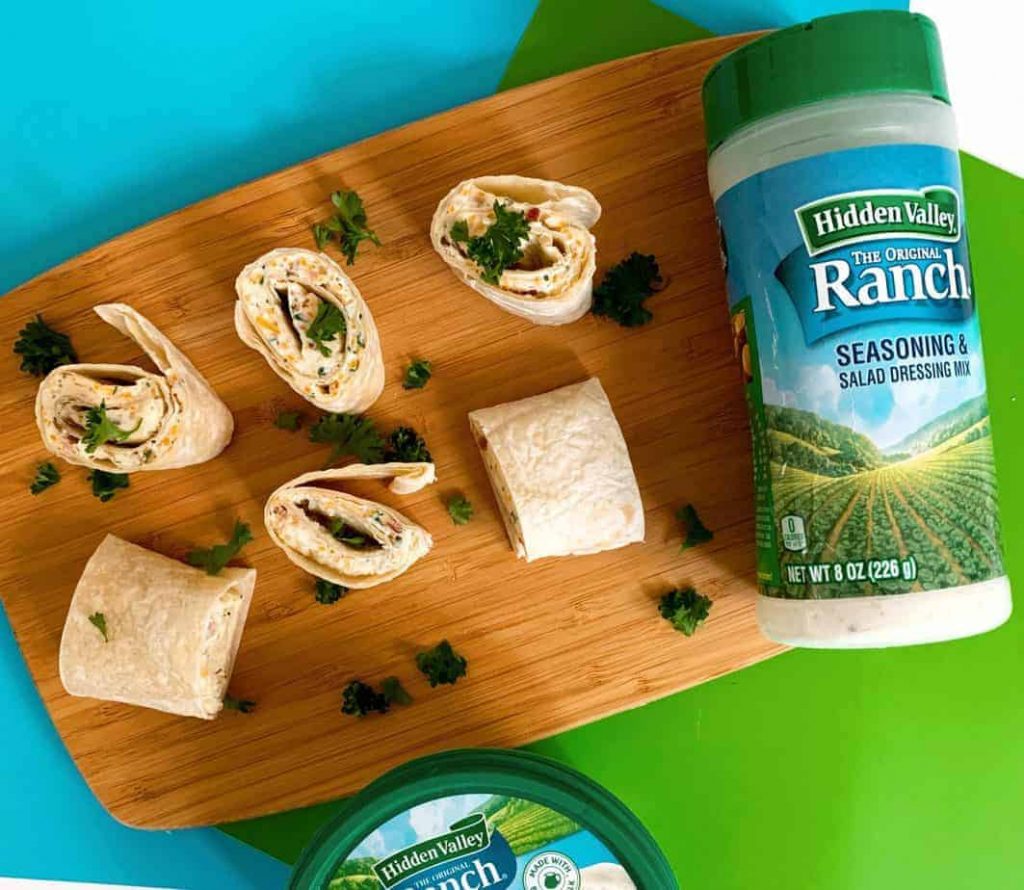 Cheddar Bacon Ranch Pinwheels
Ingredients1 package (8 ounces) light cream cheese, softened1/2 cup cheddar cheese, shredded1/4 cup cooked bacon, chopped (about 3-4 slices)1 tablespoon Hidden Valley Ranch Seasoning1/2 teaspoon fresh flat leaf parsley, choppedpepper to taste2-3 (10-inch) flour tortillasIn a large bowl, add the cream cheese, cheddar cheese, bacon, Hidden Valley Ranch Seasoning, and parsley.Using an electric mixer, beat on low until smooth and combined. Season with salt and pepper.Divide the cream cheese mixture among three tortillas and spread evenly.Tightly roll up the tortillas. Set on a plate, wrap with plastic wrap or place in Tupperware, and refrigerator for a few hours. When ready to serve, cut off the ends, and cut the rolls into slices. Garnish with freshly chopped parsley
For all of you ranch lovers, Hidden Valley Ranch is also coming out with Ready-to-Eat Dips on Amazon. It's the same delectable mixture of buttermilk, real garlic, and onion, but now comes in a thick, creamy texture so you can dip right in.
With spring BBQs just around the corner, be sure to pin this recipe for your next party!