Let me start off by saying, by no means do I claim that I am a beauty blogger. I do realize that 'Pink on the Cheek' would be a hella good name for a beauty blog!
For example, I have no idea how to describe a bronzer, but I do know what I love and hate when it comes to makeup. So, I like to keep it real when it comes to reviewing products that I think my readers will love. I hope that you can appreciate this honest review of LipSense.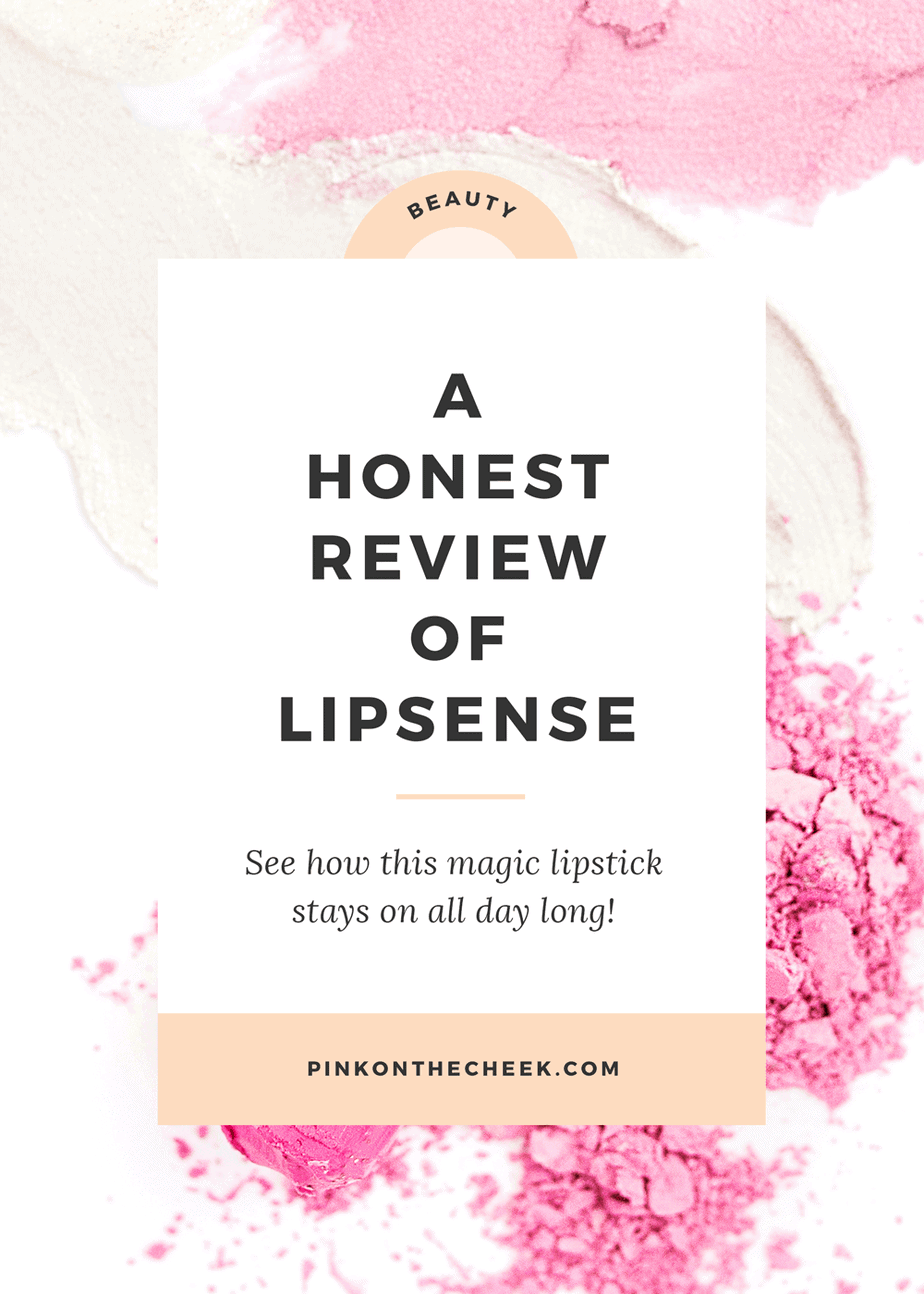 For about two months, I have slowly seen my Facebook and blogger friends talk about this lipstick from LipSense. It claims to last all day, not smear or smudge, and not dry out your lips.
After about the second month, I felt the urge to try out this wonderful lipstick. I think the hardest choice ever was picking out my initial shade. I do love wearing bold colors like cranberries and Barbie pink, but I decided to go with a classic shade in Bombshell.
Lipsense Starter Kit
With the LipSense starter kit ($55), you get a lipstick in your favorite shade, a Glossy Gloss, and the Oops Remover.
After the starter kit, you can pick out more shades for $25 each, which is pretty comparable to brands like MAC, Stila, and Urban Decay.
How to apply
There is a method to how you apply your Lipsense. You actually have to put on three layers, letting each layer dry for a few seconds in between. So make sure that you follow these steps to ensure your Lipsense goes on smoothly.
Between each layer, I did notice a stinging sensation while drying. It wasn't painful, but it was a noticeable feeling.
Review
After wearing this lipstick for a few months, I am pretty impressed by its longevity. It honestly stays on all day and does not smudge while drinking coffee or eating. I even forget that I am even wearing lipstick until I check the bathroom mirror!
I have noticed that sometimes the lipstick looks a little dry during the day, after a few hours of wear. But after adding another layer of Glossy Gloss, my lipstick looks great again.
After layering the color three times on my lips, I didn't really like the look. My lips looked matte and just kinda meh. But when the lipstick dried completely, I added the glossy gloss. That's the moment I started to understand why everyone loves this lipstick.
All I needed to keep up the look of my lips was the glossy gloss. While eating, I tested my "no smudge lipstick" on napkins and wine glasses and there was no color transfer. The only product that would transfer was the gloss. Which is fine to me because it's clear.
A couple of days later, I tried the LipSense lipstick again. I don't know if I was in a rush and didn't wait for the layers to dry completely, but I felt like my lipstick was uneven. Almost thicker in some areas. So I tried removing the lipstick with the oops remover, and the lipstick wasn't budging. I also hated the feeling of the oops remover on my lips. So I quickly grabbed a makeup wipe to get the lipstick off and try again.
This time, I took my time to evenly layer the color and let it dry. Once again, added the glossy gloss and I was in love with my lips all day long.
Final thoughts
When I take my time to apply the lipstick and follow the steps for drying, I absolutely love this lipstick. But when I am rushing around in morning, I hate that I can't really fix my lipstick without a makeup remover. I wouldn't recommend the oops remover if you already have a makeup remover at home. I also found out that eye makeup remover won't do the trick to remove the lipstick.
Another feature that I loved was that the lipstick comes in a million different shades. There are all kinds of reds, cranberries, plums, pinks, and neutrals. Plus if you don't want a glossy lip there is a matte version.
Would I buy again? Absolutely. I can see myself getting more colors now that fall is here. I normally wear lipstick in the winter, so I can definitely see the appeal of having a long wear lipstick. The best part about wearing LipSense is that the rumors are true – this is smudge and kiss proof. This lipstick isn't going anywhere!
Special discount
If you are interested in purchasing or just knowing more about LipSense, you can only purchase these products through a distributor like Dressing Dallas.
I suggest heading over and joining her Facebook Group now because these colors actually sell out really fast.
If you have tried LipSense, I would love to hear your opinion of this long wear lipstick. If you haven't tried LipSense yet, I would love to hear about which color you would try first! Leave a comment below to let me know. 
SaveSave