Thank you Onelink by First Alert for sponsoring this post. Add smart protection to your home with the Onelink Smart Smoke & Carbon Monoxide Alarm.
When Ernie and I moved into our new home, the first item I crossed off my to-do list was to check the smoke and carbon monoxide alarm. I know that smoke alarms might get overlooked or pushed down the list of items to check when moving in, but keep reading to see how I keep my home safe with Onelink.
Ernie and I are making sure that the products we are using in our home have smart capabilities so we can check on our house, even if we are not there.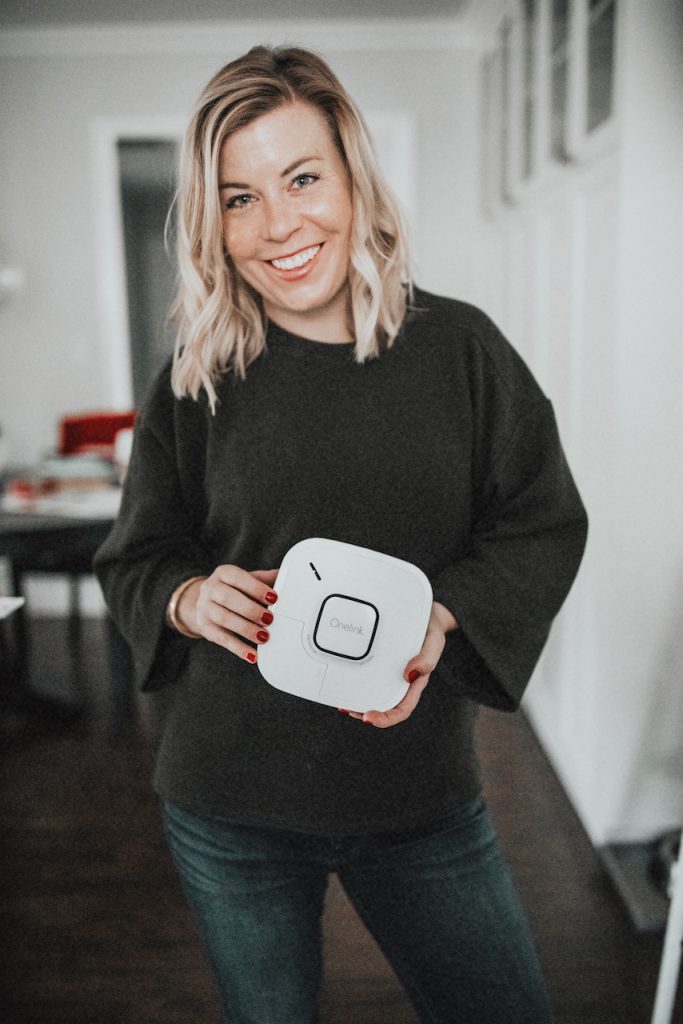 With the Onelink Smart Smoke and Carbon Monoxide Alarm, I am able to get alerts to my iPhone, giving me the piece of mine when I am away. Last year, we went on a long vacation to Italy and Greece and I was pretty worried about keeping our home safe. Even though we had security cameras with motion detection, I wish we had this Onelink alarm to add that extra level of security of knowing that there wasn't a fire or carbon monoxide leak.
When I am home, which is often since I work remotely, I am able to receive voice alerts from my Onelink alarm if there is an emergency. These alerts notify me of the type and location of the danger, instead of the traditional siren alarm – which in my opinion is startling and makes the situation even scarier.
Check out the video below to see more information about the alarm.
When purchasing the Onelink Smart Smoke and Carbon Monoxide Alarm, there are two options – wired and battery operated. I chose the battery-operated alarm so I can install it where I wanted to and take it with us when we move.
When placing your Onelink alarm in your home, make sure you don't install this device in your kitchen. Then if you are installing the device on your wall, it should be placed no further than 12 inches from the ceiling.
Onelink Smart Smoke and Carbon Monoxide Alarm has allowed my anxiety of carbon monoxide leaks to subside. Even though I absolutely love cooking with my gas stove, I was a little nervous about gas leaks in my home. Unfortunately, I can be a little forgetful and have forgotten to turn off the oven in the past.
Are you ready to add an extra level of security to your own home? Click here to find out more about Onelink and how it can give you peace of mind.