Ever since I established a night time routine for my skin, I have seen a huge improvement in how my face feels. I used to just wash my face and call it a night. Now, I am taking off my makeup, washing my face with a gentle cleanser and moisturizing my skin. Today I am going to share my new night time routine with products from DHC.
To start off, I have really fair skin with a lot of redness. If I am not careful, I will also have the driest skin imaginable. Which I learned, it's not the best when you want to apply makeup!
After using a heavy moisturizer at night, my skin actually feels plump. Like it bounces back when touched.
I am always pretty hesitant about switching skin care products because I don't want my face to break out. So I have to slowly transition over. For example, with a new face wash, I will use it once a day for a week instead of jumping right in and washing my face twice a day.
DHC Skincare reached out to me last week to introduce me to some of their best selling products. 
Deep Cleansing Oil
This product is their number one seller and one sells every 10 seconds worldwide! With numbers like that, plus the rave reviews, I was most excited about trying this oil.
Now, when it comes to oils, I don't want my skin to feel greasy. I can barely stand the thought of having an oily face! You are supposed to apply this oil to a dry face with dry hands. After massaging through, you rinse off the oil.
This oil completely removed my makeup and left my skin feeling refreshed, not tight. After trying it for four nights, I actually think this oil had improved the redness in my skin. Normally when I wash my face, my skin is left really red.
You are then to move on the second step of your skincare routine, or you can double cleanse with another face wash.
Concentrated Eye Cream
I really needed a new eye cream for day and night. I have tried a few that sting a little in my eye area. Or don't moisturize enough. This Concentrated Eye Cream is really creamy. I loved that even the tiniest amount went a long way. Plus it allowed my under eye concealer to go on smoothly.
Extra Nighttime Moisture
I had mentioned that my skin is crazy dry if I don't use a heavy moisturizer at night. I mean, even in the summer I have to layer up on my creams! Just like the eye cream, this Extra Nighttime Moisturizer, a little goes a long way. The cream quickly absorbed into my skin and didn't feel greasy or heavy. The next day, my skin didn't feel flaky but dewy and refreshed.
Velvet Skin Coat
This isn't part of my night time routine, but it's a best selling product that DHC recommended for my dry skin. This gel primer mattifies and blurs lines, with no drying time before applying makeup. I loved that even wearing this alone, my skin looked flawless. Plus it make it easier to cover blemishes with my concealer!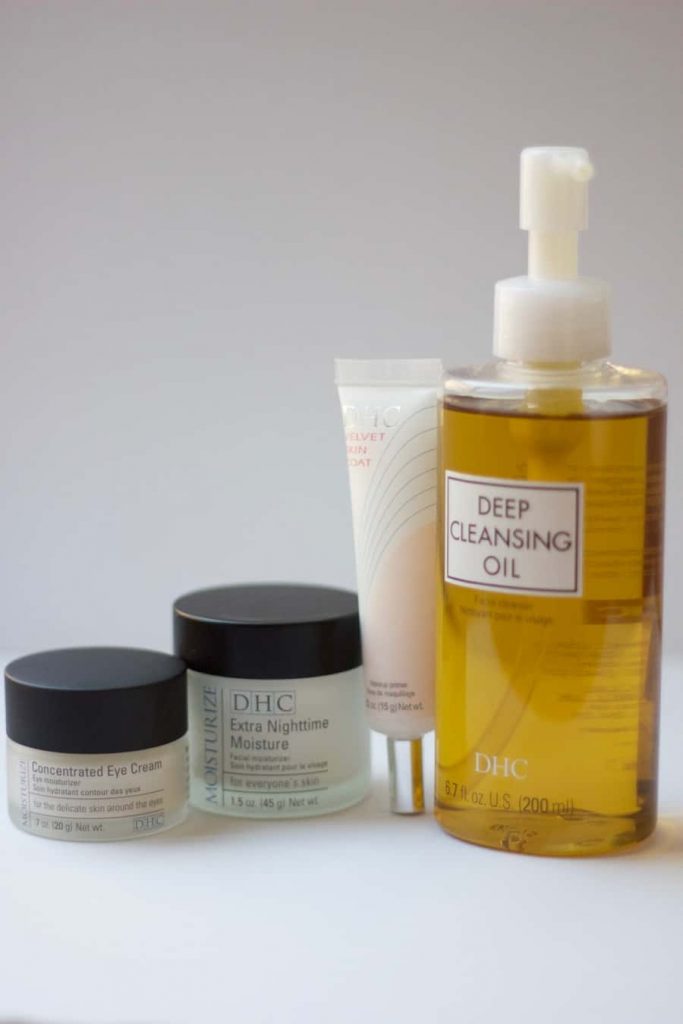 After using all of these new products for the week, my face never broke out. At night, I look forward to using my Deep Cleansing Oil. It's like magic how it removes all my makeup!
If you are interested in trying out some new products, head to DHC.