A couple times a year, I pull out my crock pot and make a big patch of pulled pork. Whenever I bring out my crock pot, I am always dumbfounded why I don't do this more often. This recipe is crazy simple and the hardest part it just waiting for the meat to cook!
I had adapted this recipe from the Pioneer Woman, but since I had a crock pot instead of a dutch oven, I change up the ingredients. This time I made Dr. Pepper Spicy Pulled Pork with Habanero Salsa.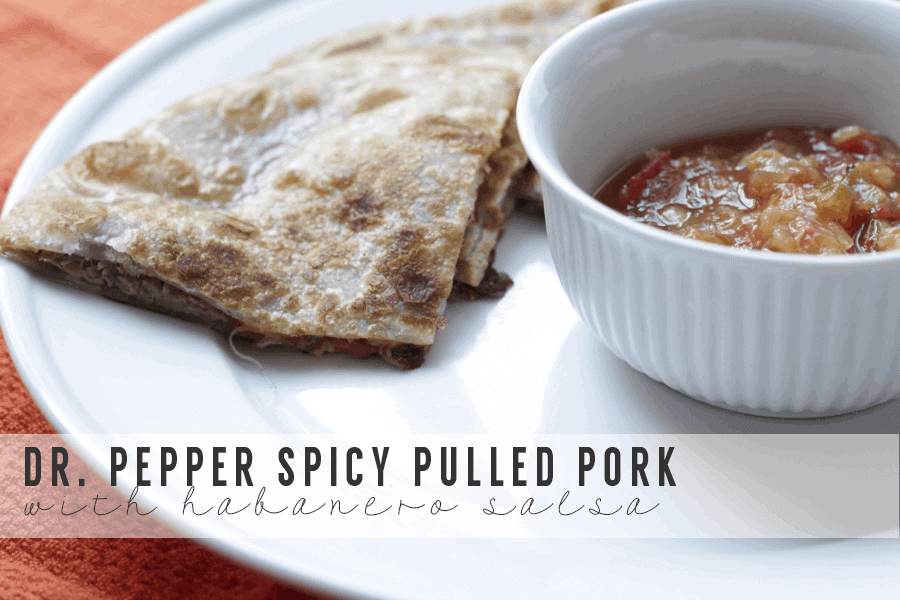 Spicy Dr. Pepper Pulled Pork with Habanero Salsa
Ingredients
1 whole onion
1 whole pork shoulder (pork butt)
1 can of chipotles in adobo sauce
12 oz of Dr. Pepper
2 tablespoons of brown sugar
Instructions
Cut up the onions into quarters and place at the bottom of the crock pot
Generously salt and pepper the pork shoulder and place on top of the onions
Pour the entire can of chipotles and sauce over the pork
Pour the Dr. Pepper over the pork
Pat in the brown sugar
Cook over 6 hours and flip the pork 2-3 times during the cooking process
When cooking time is over, you should be able to take a fork and shred the meat.
Take the meat out of the crock pot and shred the meat with two forks then place back into the crock pot sauce.
https://pinkonthecheek.com/spicy-dr-pepper-pulled-pork-habanero-salsa/
I was thinking of ways to use the pulled pork, since it definitely makes enough for 4-6 people. Sometimes we like to make pulled pork sandwiches, but this time I decided to put it in a quesadilla. I am never looking back!
Since I had some La Victoria Mango Habanero Salsa on hand, I added it to the quesadilla. It was the perfect blend of sweet and spicy!
La Victoria is one of our favorite brands of salsa and we always keep a jar in the fridge. At least once a week we have a burrito night! La Victoria just came out with three new salsas: Mango Habanero, Pineapple Salsa, and Roasted Pepper Salsa.
During a 4th of July BBQ, we brought chips and the La Victoria Pineapple Salsa. Needless to say, it went fast!

Whether you are using La Victoria Salsa with chips, in a burrito, or as a side to a quesadilla, you can't go wrong. It's amazing how something so simple can be so delicious!
Bonus, La Victoria is hosting a giveaway: Enter to win a trip to San Diego!
To enter the giveaway, head to the La Victoria website here. Good luck!