I am all for easy, weeknight comfort meals made with fresh and local ingredients. This is what I like to call #NewComfortFood. When there are minimal ingredients, it makes for easy meal prep!
Today I am going to show you how to make spicy sesame noodles with Foster Farms Simply Raised fresh chicken.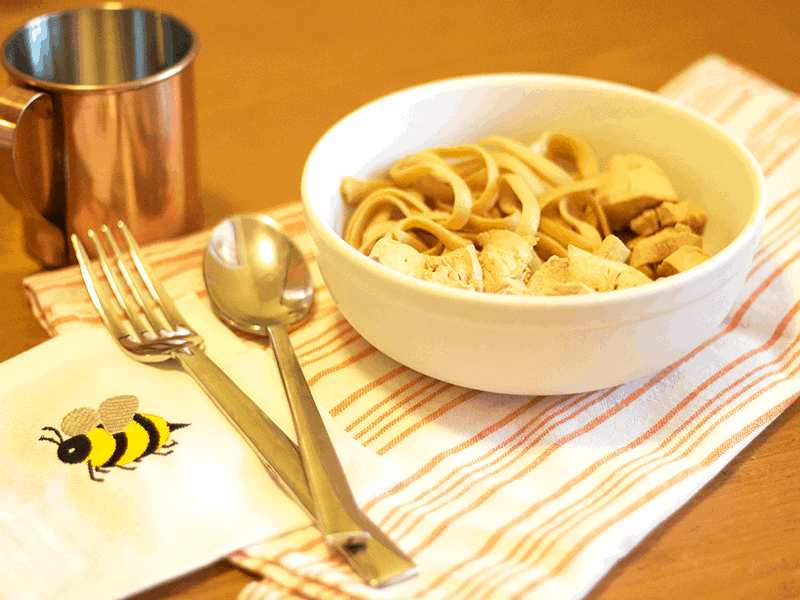 While I am working through my Chrissy Teigen "Cravings" cookbook, I found a recipe for spicy sesame noodles. Last week I made the recipe as provided in the cookbook, but Ernie and I felt like it was overly spicy and had way too much sauce.
So this week, I made the recipe with some modifications and it was perfect!
Pin the recipe for later:
Spicy Sesame Noodles with Chicken
Ingredients
Kosher Salt
1 (8 ounce) boneless, skinless chicken breast (I used Foster Farms Simply Raised Chicken)
8 ounces of dried fettuccine
1 teaspoon sesame oil
1/8 cup canola oil
1/8 cup Trader Joe's Tahini
1 1/2 tablespoons soy sauce
1 tablespoon red wine vinegar
1 tablespoon chili oil
1/2 teaspoon honey
1/2 teaspoon cayenne pepper
1 clove garlic
Instructions
Fill a large saucepan 2/3 fill of water and bring to a rolling boil over high heat
Salt the water
Once the water comes to a boil, place the chicken in the water, remove the pot from the heat
Cover and cook for 15 minutes
Remove the chicken from the water, BUT DON"T THROW AWAY THE WATER
Bring the water to a boil again and cook the fettuccine according to the box directions
Drain and rinse the pasta in cold water
While the pasta cooks, in a large bowl, whisk together all the ingredients until smooth.
After the pasta has dried, add the pasta to the sauce bowl.
Shred the chicken with two forks or cut into bite size pieces and add to the pasta
Stir the sauce and the pasta all together
Serve in individual bowls
https://pinkonthecheek.com/spicy-sesame-noodles-with-chicken/
The second time making the recipe was a success! For the chicken, I used Foster Farms Simply Raised fresh chicken. Foster Farms is the leader in antibiotic free and local chicken on the West Coast. Since I am the one who does the grocery shopping for our home, I always like to make sure I am providing the best for my family.
I would love to hear if you made this recipe and how your family liked it! I made a huge amount the second time I made the recipe so I could have leftovers during the week. Trust me, these noodles are even better served cold the next day!
Plus, I have an exclusive coupon from Fosters Farms. Click here to get $1.00 off your next Foster Farms Simply Raised chicken.
Enjoy!