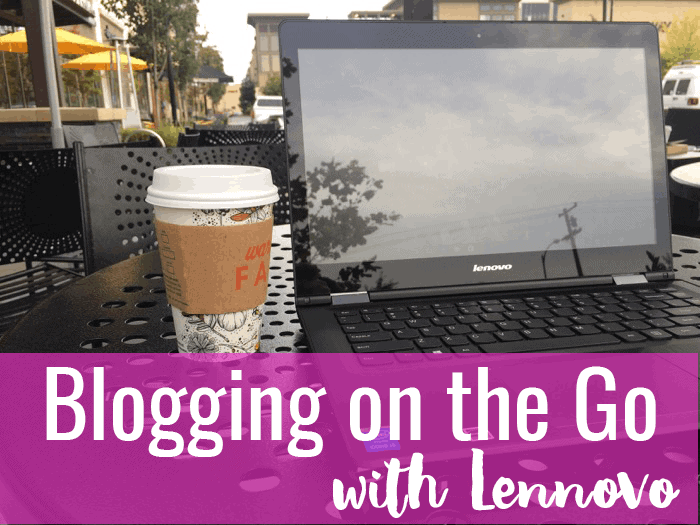 Today, I am going to share how I use my Lenovo 2-in-1 with Intel to blog on the go.
When I have a busy week at work, I like to schedule my blogging time on Sundays. I always feel better with a schedule and a plan. So on Sundays, I head to my local Starbucks and blog for a couple of hours.
I have been a fan of the Pumpkin Spice Latte…until I heard about the Toasted Graham Latte.
You can disagree (and be wrong), but I think the TGL tastes way better than the PSL. Yes, you must use the abbreviation when talking about Starbucks drinks.
With my Lenovo 2-in-1 laptop, I am able to write and edit photos all in the comfort of my local Starbucks. When I first opened the laptop to get working, I downloaded the free Windows 10 update. This is a HUGE upgrade from Windows 8 with features like Cortana (a virtual assistant) and the capability to switch from laptop to tablet mode. Cortana and I have quickly become besties since she is able to set calendar appointments for me and find files with the click of a button.
I like that I can download Photoshop and lots of design files on my Lenovo. I never felt like the memory was getting bogged down and making the computer laggy. I am constantly worried that when I go to buy a new font package that my computer will slow down.
Added feature of the Lenovo 2-in-1? Flipping that screen into tablet mode. Hey, I sometimes I need a break from blogging and want to catch up on Scandal. With this huge 14in screen, I am able to sit back with my TGL and binge watch on Hulu.
Have you thought about getting a computer exclusive for blogging? Tell me your thoughts in the comments!
#spon: I'm required to disclose a relationship between our site and Intel This could include Intel providing us w/content, product, access or other forms of payment.