This holiday season, I got your back with an easy cheese board recipe. With this recipe, you can easily expand on the ingredients or keep it simple.
Cheese
The first step to kick off your cheese board is obviously CHEESE. I picked out Stella® Parmesan Cheese to center around my ingredients. 
If you want to expand on these cheese pairings, I would suggest adding a soft cheese like the Stella® Goat Cheese.
Meat
My first choice for a cheese board is always salami. I love it for its salty flavor because it pairs well with the sweetness of fruit and jam. If you wanted a larger cheese board, add prosciutto to the mix!
Jam
Oh man, do I love fig jam. It's not too sweet and it provides a great palette change after a few bites of parmesan. Man, I am getting hungry! 
If you wanted something else other than fig jam, I like adding Trader Joe's Hot & Sweet Chili Jam or pure honey.
Fruit
Grapes are always in season, so in the winter they are a perfect addition to any cheese board. I also like adding strawberries or apples, to dip in the honey.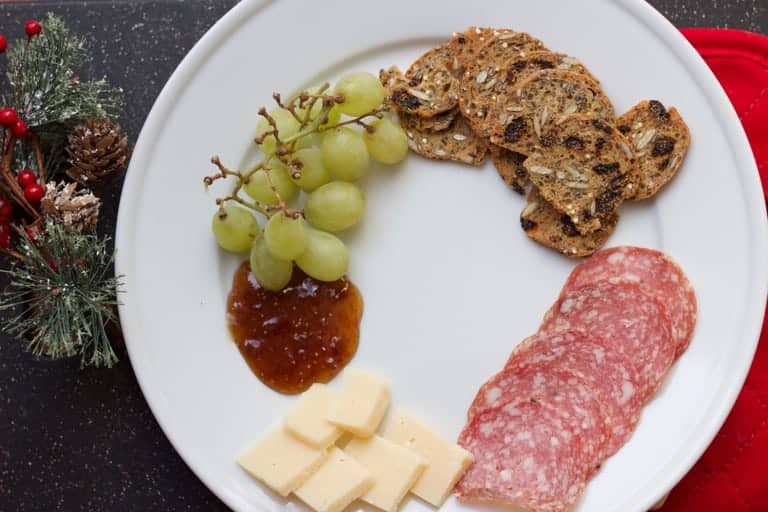 Crackers
To be honest, I only picked out these fig crackers at Safeway because they were on sale. Normally I like a sourdough baguette or French bread with my cheese board. But these fig crackers had a lot of flavor on their own, so I am glad I got them!
With these five ingredients, you will look like a genius in the kitchen. Plus, you might have all of these items in your house so you don't have to make a last-minute trip to the store if guests pop over! Finish off the cheese board with your favorite bottle of wine and your get-together is complete. 
Love wine and cheese? My friends at Stella® Cheese invite you to enter a contest to win a trip to Napa Valley. You can check out the contest here. Good luck!