One of my favorite resources for mom advice is from a Facebook group called December 2021 Babies. The group is an open forum for parents to chat about their babies born in December 2021, whether they were delivered on time, early, or late. Here is the collected list of the recommended baby toys for 5 months+ in this group.
I highly recommended finding a Facebook group based on your baby's age. It's been so informative to hear from other parents with similar-aged babies.
As a result of joining this group, I have found some of the best toys for Izzy. As she is now five months old, she is in the stage where she can be alert and entertained, in addition, she has the ability to hold on to toys and play on her own.
Based on the feedback from the parents, here is the list of recommended baby toys for 5 months+.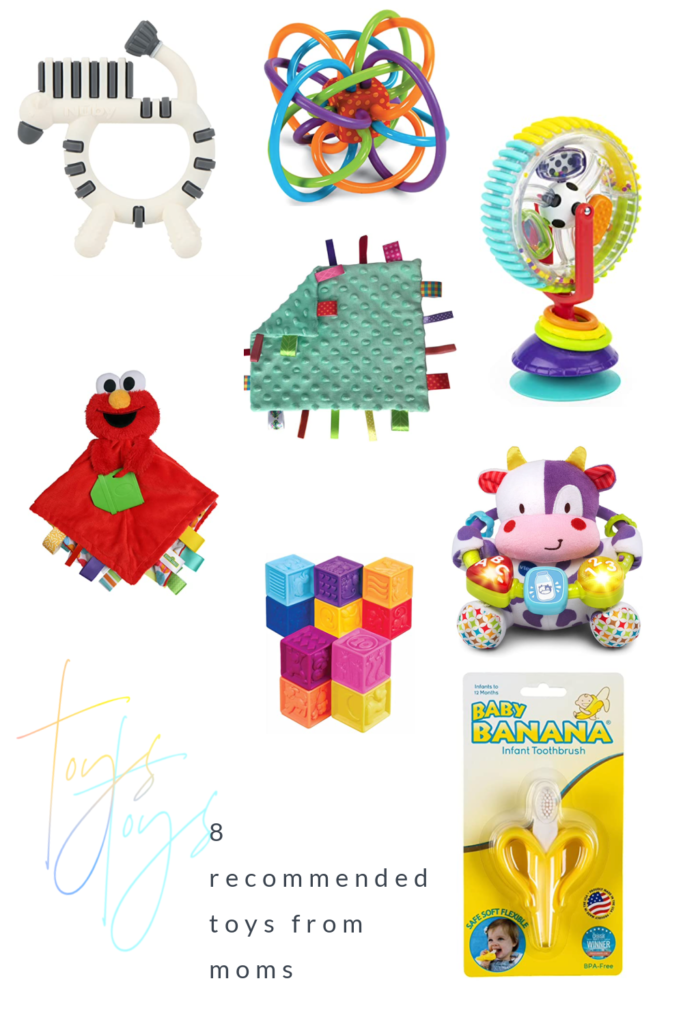 Nuby Geo Zoos Massaging Silicone Teether
"This is her new favorite that we scooped up from Target!"
Baby Banana Yellow Banana Infant Toothbrush
"This is a current favorite!"
VTech Baby Lil' Critters Moosical Beads
"LOVES it!"
B. toys – One Two Squeeze Baby Blocks – Building Blocks
"He likes to gnaw on them!"
Bright Starts Sesame Street Snuggles with Elmo
"We'd never have a peaceful car ride anywhere without this Elmo. He's her best friend."
Sassy Wonder Wheel Activity Center
"My daughter is obsessed with this. So are my 2 yo and 8 yo."
Baby Security Taggies Blankets
"We were gifted one of these & my son literally lives for it. Chews it constantly!
Manhattan Toy Winkel Rattle
"Ah yes, my girl loves the Winkel rattle!"
---
There are tons of educational toys for babies out there today and you can spend a fortune on them, however, most of them are unnecessary.
The list above represents toys that have been recommended by December 2021 parents, with plenty of positive feedback. Avoid spending a lot of money, and stick to this list if you want the best baby toys for 5 months+.
Looking for more baby-related posts? See the 8 newborn products you'll actually use.