Thank you to Foster Farms for sponsoring today's blog post. As always, all opinions are my own.
September is one of my favorite months out of the year. During this month, we pack in my birthday (+ my twin), my older brother's birthday, wedding anniversary, older brother's anniversary, sister-in-law's anniversary, and my step-dad's birthday. Pretty much every weekend is booked out a month in advance with birthday parties and celebrations. Needless to say…our weeknights are just as packed.
To stay on track, I like to plan out our meals week by week, so we don't fall victim of the dreaded "what are we going to eat" dilemma.
This week, I made a large batch of oven-fried chicken for dinner and extra meals. This recipe is a #NewComfortFood spin on a regular fried chicken recipe, without all the added fat and oil.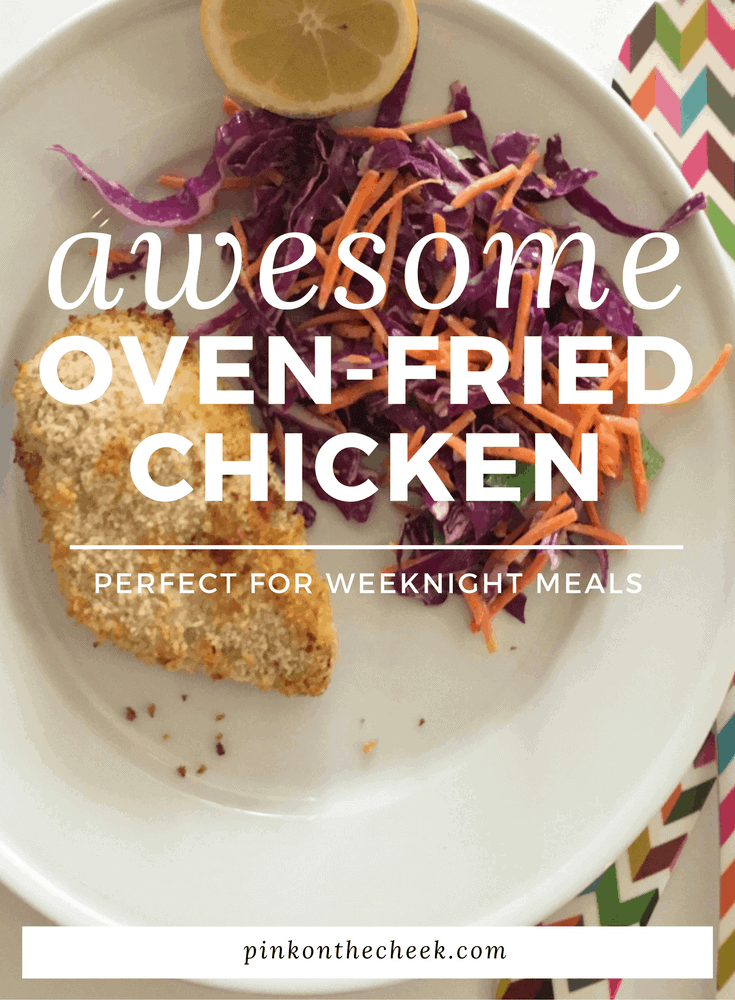 The #NewComfortFood movement is a way of cooking that creates a new spin on a classic recipe. For example in this recipe, I am using Foster Farms' Simply Raised chicken. What I liked most about using Foster Farm's Simply Raised Chicken is that their chicken is antibiotic-free, American Humane Certified and fed a 100% vegetarian diet, without any added hormones or steroids.
My definition of comfort food has changed throughout the years. I remember growing up that a loaf of bread would be at every dinner. Of course we would polish that off with lots of butter, olive oil, and cheese! It was all delicious, but now I am more mindful of what I am putting in my body. That's why I like to get locally grown meat and vegetables whenever possible.
For today's recipe, I planned on cooking my oven-fried chicken on Saturday. I actually like cooking by myself in the kitchen, so it worked out that my husband would be at the golf course. That way I could also spread out in the kitchen and take pictures!
Weeknight Oven-Fried Chicken
Ingredients
2 12oz Foster Farms Simply Raised Chicken Tenders
1 cup panko bread crumbs
4 teaspoons butter
1 tablespoon sriracha
Instructions
Bring butter to room temperature and preheat oven to 450 degrees
Line a baking sheet with foil and coat with non-stick cooking spray
Make the butter rub by drying chicken with paper towels.
In a small bowl, stir together the butter, sriracha, honey, and 1/4 teaspoon salt and 1/8 teaspoon pepper
Lay panic crumbs in a flat plate
Roll the chicken in the butter rub and then coat chicken in panko crumbs
Lay chicken on foil lined baking sheet and cook for 12 minutes
Turn the chicken over and cook for 7 more minutes
Let stand uncovered for 5 minutes before serving
https://pinkonthecheek.com/weeknight-oven-fried-chicken/
To continue with my #NewComfortFood meal, I served my chicken tenders with a side of homemade coleslaw. Instead of using mayonnaise, I am using a mixture of sour cream, lemon juice, and honey.
Coleslaw Dressing:
1/2 cup matchstick carrots
1 cup shredded red cabbage
1/2 lemon juice
1 tablespoon sour cream
1 teaspoon honey
1/2 teaspoon salt and 1/4 teaspoon pepper
I would love to know if you made this oven-friend chicken recipe for you and your family! If you are looking for more recipe ideas made with Foster Farms Simply Raised Chicken, you can find some amazing recipes here.