This Snickerdoodle Protein Smoothie is a delicious treat after any workout. When I hop off my SoulCycle bike, I head straight to the kitchen to start making this smoothie. Keep reading for the full recipe.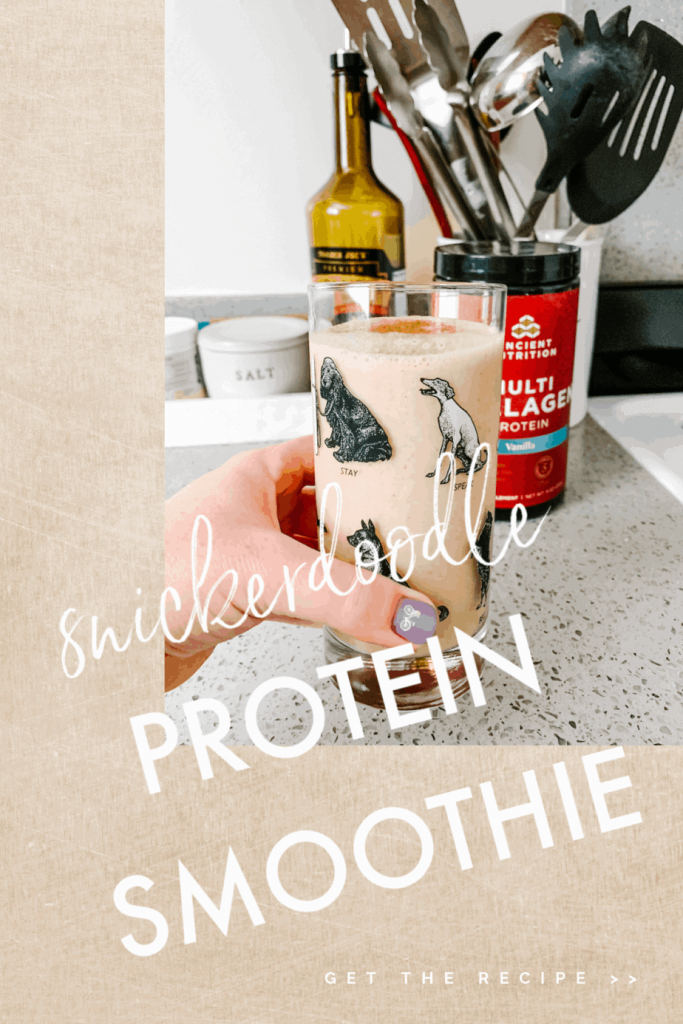 What ingredients are in a Snickerdoodle Protein Smoothie?
This healthy protein smoothie requires dates, plant-based milk, frozen cauliflower, your favorite vanilla protein powder, peanut butter, vanilla extract, and cinnamon.
You can add in some mix-ins of your choosing to add to the smoothie, like a banana!
Bananas – They help to create a thicker consistency that's similar to soft-serve ice cream. Bananas are rich in potassium, vitamin B6, and vitamin C.
Hemp seeds. Although optional, are a great addition to top this smoothie. They are high in protein, omega-3 fatty acids, magnesium, and more.
How to make a Snickerdoodle Protein Smoothie
We all know that smoothies are really simple to make, but the secret to this recipe is soak the dates in warm to hot water for 5 minutes before blending.
Add ingredients to a high-speed blender.
Blend ingredients until smooth and creamy, adding more liquid if needed (depending on your blender's speed and power).
Pour into your favorite glass.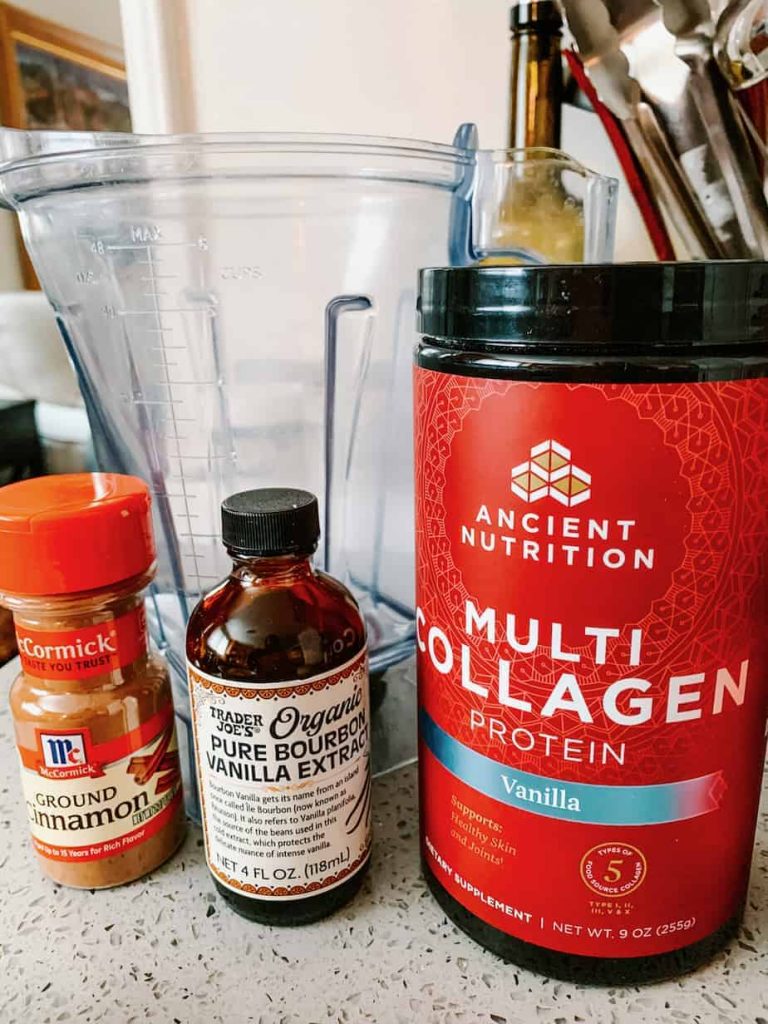 Why I choose Ancient Nutrition protein powder
I am pretty particular when it comes to protein powders. In the past, certain protein powders have upset my stomach, have stayed chalky, and altered the taste of my drinks.
I choose Ancient Nutrition because I can trust the sources of their ingredients. I also appreciate that the powders have five sources of collagen to make this a powerhouse of healthy ingredients.
Check out their full line of products at Dr. Axe Store.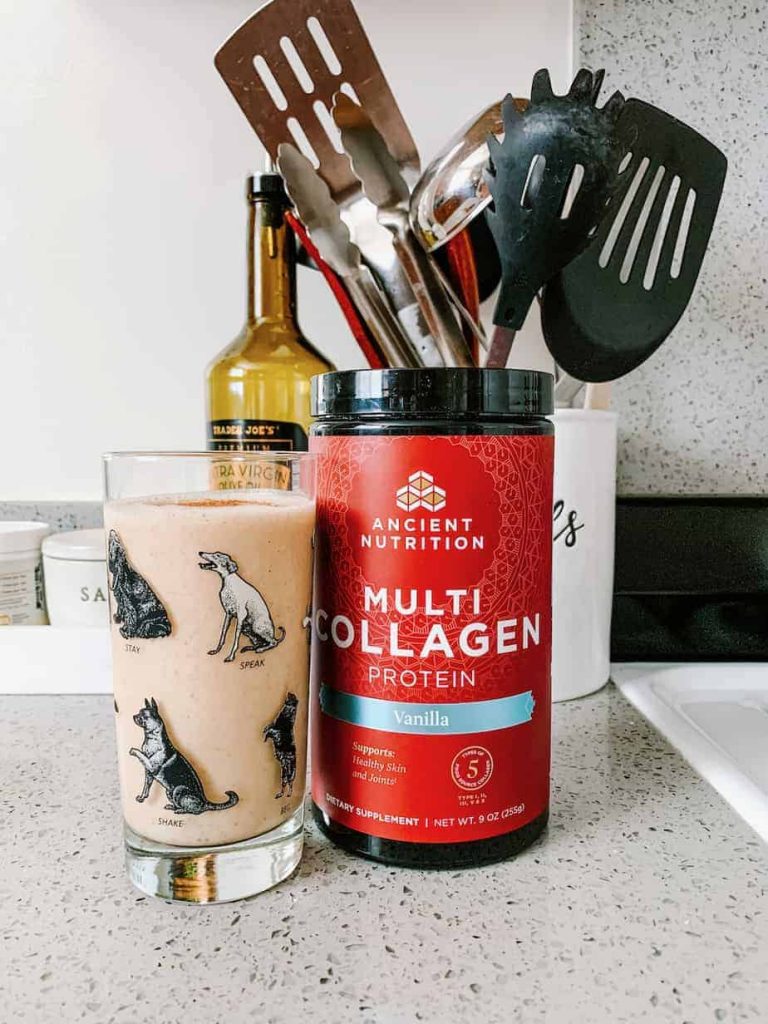 Ingredients
3 Pitted Dates
1 Cup Oat Milk Or your favorite plant-based milk
1/2 Cup Frozen Cauliflower I chose the Trader Joe's Frozen Riced Cauliflower
1 tsp Vanilla Extract
1 tbsp Cinnamon
1 Scoop Ancient Nutrition Vanilla Protein
1 tbsp peanut butter
Directions
Soak the pitted dates in warm-hot water for 5 minutes
Add all ingredients into the blender
Blend until smooth, adding in additional liquid if needed
Pour in your favorite glass, top with additional cinnamon if you're feeling fancy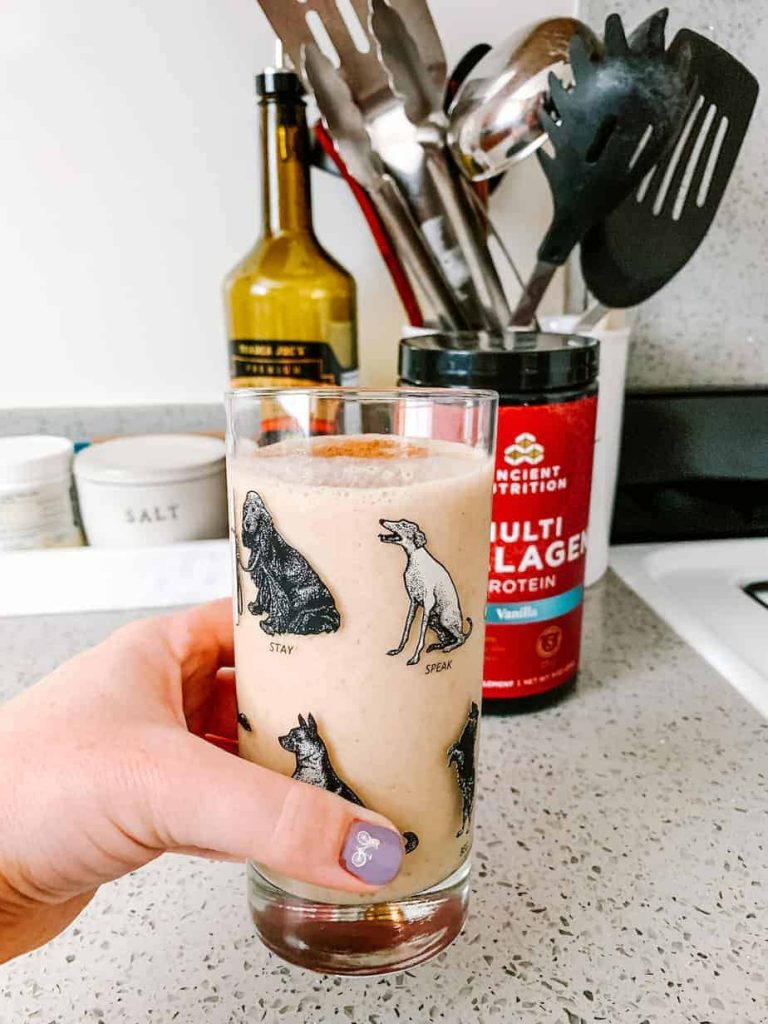 If you love this Snickerdoodle Protein Smoothie, check out my other recipes!
If you try this Snickerdoodle Protein Smoothie, please let me know your thoughts by leaving a comment below!